If you feel stressed out and overwhelmed..
If you feel like you're never going to be able to afford the wedding of your dreams...


and you don't know how to get out of this endless pit of "to do" tasks, or where to go now that you've started...

This is for you.

Does this sound familiar?
You know that a wedding planner would be helpful,
but also know that hiring one is just not in your budget.
You know what you want your wedding day to look like,
but don't know what to do to make sure it ends up that way.
You have a goal budget in mind,
but don't have an organized system for how to keep track of what's been spent, what's going to be spent, and what extra expenses you'll need to account for.
You want to enjoy your engagement season and have fun planning your wedding,
but you are overwhelmed and stressed out trying to figure it all out by yourself!

Wouldn't it be nice if you didn't have to spend hours googling your questions and sifting through blog posts, instagram reels, & tiktoks to find wedding planning tips to help you?


What if I told you...
That you'd never have to search for wedding planning help again. That you could find all the answers you're looking for in ONE PLACE.
*No matter how far along you are in your wedding planning process!*

Expert Wedding Planner advice for each and every step and decision you'll need to make throughout your wedding planning.
A step by step process for what order to do things in and things to consider to help you make decisions & SAVE MONEY!
The insider scoop on how to find your vendors AND what to look for when selecting each individual vendor + questions to ask them
Design planning advice and execution for making your dream wedding come to life!
A walk through of how to create your wedding day timeline, lots of examples & templates, and how to formulate a logistics and details plan for set up through tear down & everything in between.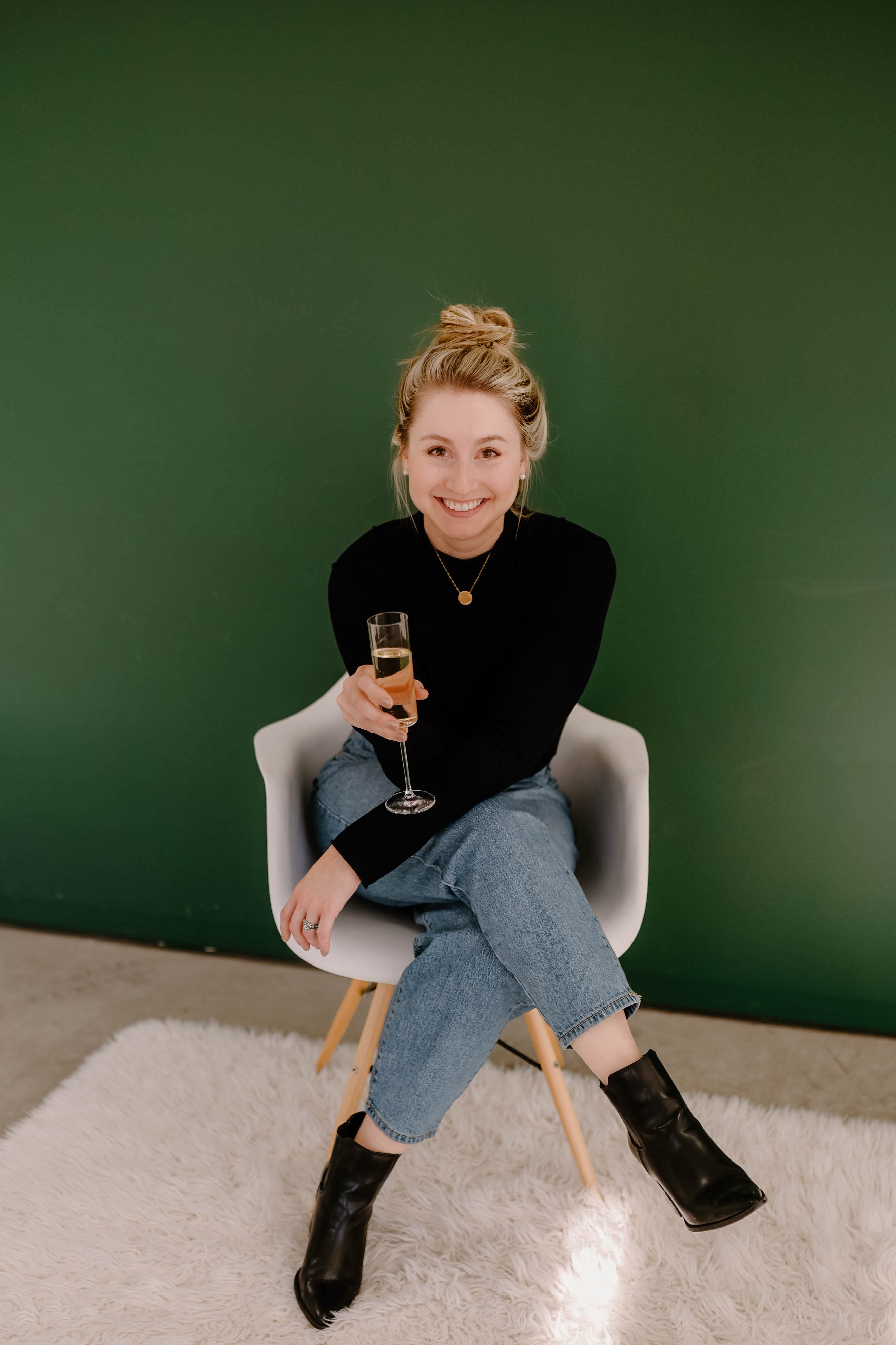 Hey there, I'm Katie
I'm a wedding planner and coordinator, specializing in taking brides from stressed-out & overwhelmed to calm, cool, collected, and GIDDY about their wedding day.
I'm all about staying in budget and on time to ensure that you don't feel crushed or rushed under the weight of wedding planning.
I help couples make their dream wedding visions come to life! All the while, enjoying the sweet season of life they're in with their favorite people.
I created the Wedding Planning Crash Course and the Wedding Planning Spreadsheets so that I could help more couples throughout their wedding planning process, without them having to pay to hire a wedding planner..

1 - Confidence & Direction in your Wedding Planning
...no more stress or overwhelm! No more googling! The benefits of having your very own wedding planner without having to pay for one.
2 - Seven Modules + Countless Resources + 3 Incredible Bonuses
...that walk you through the process of planning your wedding from A-Z. Or, L-Z, if you've already started working on planning your wedding, and anywhere in between!
3 - Very Specific Instructions for Booking Vendors
...including which vendors you need, which vendors are "extras" and how to go about finding them and deciding if they're the right fit for YOU!
4 - Tutorials on how to create and organize your Wedding Day Timeline
...with easy to use, straightforward, systems for organizing your day to ensure that you actually get to enjoy your wedding day.
5 - Every Logistical Detail you'll need to think through
...and a plan for how to organize all of this information so that your transitions are seamless and your day is executed to perfection.
6 - The Famous Wedding Planning Spreadsheets!
...five wedding planner created spreadsheets (Google Sheets that you can pull up anywhere!) to keep you organized, in budget, on track, and feeling GOOD about your wedding planning process. Plus! Short video lessons teaching you how to use & personalize each sheet.

These course lessons will rock your world.
I'm literally giving away all of my knowledge built up over years and years of experience!
FAQ
HOW DO I KNOW IF THIS IS RIGHT FOR ME?
THIS COURSE IS FOR THE BRIDE OR COUPLE (OR MOM! IF YOU'RE HELPING PLAN THE WEDDING) WHO IS LOOKING TO TAKE THEIR WEDDING PLANNING INTO THEIR OWN HANDS AND STAY AS ORGANIZED AS POSSIBLE THROUGHOUT THE PROCESS.
IF THAT SOUNDS LIKE YOU, THIS IS YOUR SIGN TO GRAB THIS COURSE WHILE IT'S AVAILABLE!

WILL THIS CONTENT REPLACE THE NEED FOR A WEDDING PLANNER OR COORDINATOR?
THIS COURSE WILL ALLOW YOU TO KEEP YOURSELF AS ORGANIZED AND AS "ON TRACK" AS A WEDDING PLANNER COULD.
SINCE THE ONLINE COURSE IS NOT A LIVING, BREATHING HUMAN, IT WON'T BE ABLE TO HOLD YOUR HAND AS YOU MAKE PLANNING DECISIONS LIKE A WEDDING PLANNER OR COORDINATOR WOULD BE ABLE TO. AND IT WON'T FIND YOUR VENDORS FOR YOU, LIKE A WEDDING PLANNER WOULD; HOWEVER, IT WILL GIVE YOU ALL THE DIRECTION AND INSIGHT TO BE ABLE TO FIND, QUANTIFY, AND CHOOSE YOUR VENDORS FOR YOURSELF, ALONG WITH ALL OF THE OTHER PLANNING & LOGISTICAL DECISIONS THAT NEED TO BE MADE.


DO I NEED TO BE TECH-SAVVY, OR HAVE ANY SPECIAL APPS OR PROGRAMS TO ACCESS & USE THE COURSE?
NOPE! NO TECH-SAVVINESS REQUIRED. ONCE YOU PURACHSE THE COURSE, YOU'LL BE GIVEN IMMEDIATE ACCESS TO ALL OF THE ONLINE MODULES THROUGH A TEACHABLE LOGIN, WHICH YOU'LL NEED TO CREATE A USERNAME AND PASSWORD FOR. AFTER THAT, YOU'LL JUST LOGIN WHEN YOU WANT TO ACCESS THE COURSE AND WATCH IT ONLINE! EASY PEASY.
HOW LONG WILL I HAVE ACCESS TO THE COURSE MATERIALS?
YOU'LL BE ABLE TO ACCESS THE COURSE INSTRUCTIONAL VIDEOS FOR THE LIFETIME OF THE COURSE, OR AS LONG AS THE COURSE EXISTS.
DO YOU PROVIDE REFUNDS?
DUE TO THE NATURE OF THIS COURSE, AND AFTER SUCCESSFULLY WORKING WITH TONS OF COUPLES UTILIZING THESE VERY RESOURCES, TECHNIQUES, AND KNOWLEDGE BASE, I AM CONFIDENT THAT THIS COURSE WILL BE HELPFUL AND BENEFICIAL IN GUIDING YOU ALONG IN YOUR WEDDING PLANNING JOURNEY AND DO NOT OFFER REFUNDS.



Have another question? Email us at

[email protected]